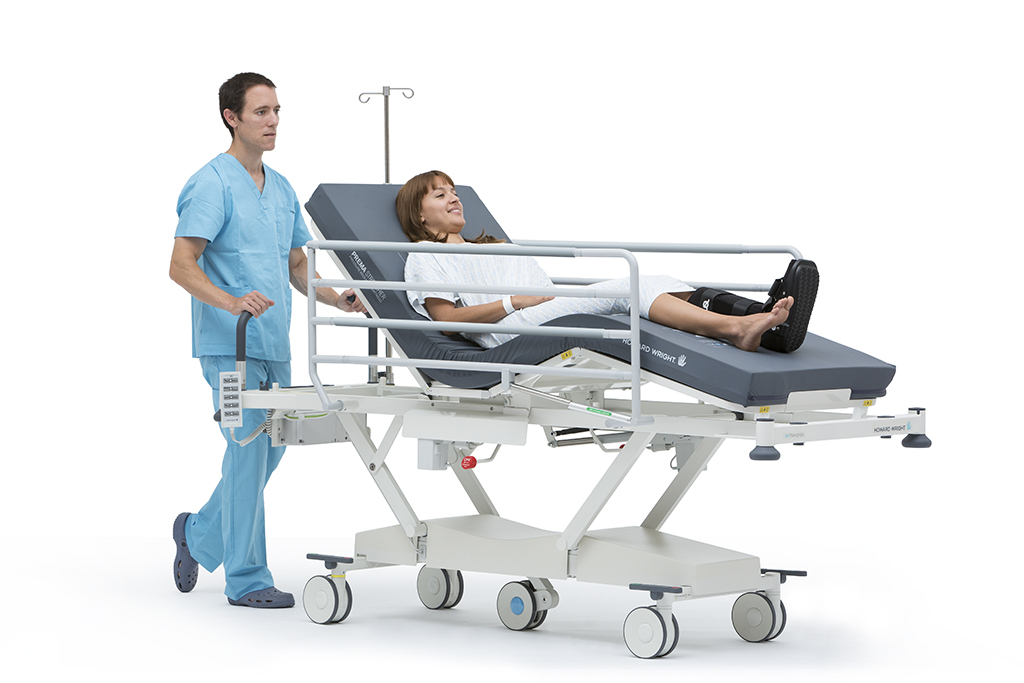 M9

Transfer
Fully electric functions to make moving patients safer and easier.
The new  M9 Transfer is fully electric with battery backup to reduce manual handling and provide the safest platforms for patient mobility and emergency care.  The mattress platform has a low height of 350mm allowing the patient to put their feet flat and securely on the floor when getting on and off. Maximum height extends to 800mm providing an ergonomic working range for clinicians and caregivers to interact with patients.
Using a single button, the platform will automatically contour to a comfortable chair position. Angles and proportions have been selected to suit patients of all sizes. The mattress platform can be easily set to a Trendelenburg setting (16°) via the control handset.  When tilting in the reverse direction, the platform pauses for 2 seconds at the level position to confirm returning to horizontal. Combining the reverse Trendelenburg (13.5°) with the chair position provides a comfortable seat to help normalise patients.  All functions can be individually locked to prevent operation when required.
Designed using our 'Simple, Smart and Human' values, minimal maintenance and user training is required.  All Howard Wright products are specified with high quality components that have proven reliability over many years in the most demanding healthcare environments.
The M9 series has been developed in accordance with EN IEC60601-2-52:2010, the hospital bed standard to ensure the safety of both patients and caregivers even if the patient is unattended.